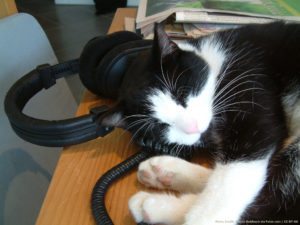 Since the OYC Podcast was launched on March 14, 2016, we've had 2,008 downloads – thanks to our listeners! Some of the inspiring guests we've had so far have shared with us of the importance of owning your creativity – and how really simple it can be.
Rob Levit, musician, keynote speaker and community builder, emphasized how important it is to figure out where your locus of control is. Do you give your power away? Do you wait for someone to give you permission to follow your passion? Do you see yourself as a victim of circumstances, or do you take ownership of your life? If you are in the driver's seat, you will have more direction and fulfillment than if you are always sitting in the passenger seat.
Speaking about being in a car, an upcoming guest of mine, author, podcaster, business coach Joel Boggess, shared a wonderful piece of advice he got from a friend who said, "You can't steer a parked car." That interview will be coming out soon. To make sure you don't miss an episode, subscribe to the show on iTunes by clicking here.
Bruce Langford of MindfulnessMode.com emphasizes being in the moment, and similar to Rob, Bruce is all about choosing how to be moment to moment. Whenever something comes up that seems to block your desires, Bruce recommends coming back to yourself through meditation and mindfulness. Then you'll know the best course of action. He also recommends asking your inner Wanda what to do. For more on Wanda, see my blog post here.
Another inspiring person I interviewed was Sylvie Filiatreault, painter and fantasy author. Her definition of creativity is that it's the soul breathing. I think that is the most beautiful definition I've come across yet.
Filmmaker Devinder Singh is a former student of mine and he reminded me of so many great film moments including many inspiring quotes from his favourite filmmakers. I especially liked the quote he shared from Stanley Kubrick that the best thing an artist can have is a keen ability to problem-solve.
There are so many more inspiring guests on the Own Your Creativity podcast. Don't miss an episode; Subscribe to it on iTunes today.

---
Get updates on what's happening at Own Your Creativity by joining our mailing list here.