Hello there! I'm Elizabeth Johnston, and my mission is to help you liberate your unique story so that you step boldly into the next chapter of your life -- one of creativity, passion, purpose, and joy.
I have been where you are. I know what it's like to be caught up in a job or routine that stifles your dreams. I also know what it feels like to settle for less than you deserve.
Before I hired Elizabeth to be my coach, I had been struggling for over a year to outline and write my manuscript. I had been out of school for a very long time, so I had little confidence in my writing abilities. Because of these challenges, I wasted twelve precious months, frozen in a state of inaction.

Thanks to Elizabeth, I met my publisher's deadline and now have the writing skills and confidence to finish my book.

Angelique Beauregard


Nutrition Life Coach
But, I also learned early on that the life I created for myself was down to the story I told both to myself and the world. My penchant for story led me into degrees in creative writing and screenwriting. From there, I became a journalist, author, filmmaker, and professor.
For over 20 years, I've combined my education and expertise into a practical approach to coaching that produces tangible and transformative results in your life and business.
I had gotten stuck wanting to tell my own financial story, hoping that people would map their lives onto what happened to me. But Elizabeth helped me understand how to tell my story from their perspective. This way, they could easily understand the powerful transformation that they can have when they work with me.

Hilary Hendershott


Award-winning Financial Coach & Podcaster
How Does A Story Coach Help You?
My coaching program is designed to help you liberate your story. First we get clear on what story you want to work on. You could be at any stage of the writing process -- the beginning, or have some of the pages already written, or even have a first draft. Depending on your starting point, we create a customized coaching plan to realize your writing dreams.
We then work on putting your vision into action. Based on your goals, I create a customized schedule that breaks down your larger vision into actionable steps. Each week, we meet for a one-on-one coaching call through Skype where you get feedback on what you've written, and guidance on the next step.
By the end of our time together, you will have achieved your weekly milestones and emerge with your goal achieved, ready to start on the next phase of your writing project or springboard to working on your story on your own.
Elizabeth Johnston is an outstanding editor and writer. She has a keen eye and a strong sense of narrative structure.

Marianne Ackerman

Author, Playwright, Publisher
Elizabeth's editorial comments on my novel-in-progress mirrored that of a prestigious editor, which confirmed what I already knew: Elizabeth is a true professional in the area of writing.

Marnie Maguire

Writer, Artist, Guide
I had been a dry technical writer in the field of aviation for many years. I have now written my memoirs including the emotions — which I had felt — but had been unable to express without Elizabeth's help.

David Walker

Retired Air Canada Pilot
The Nuts & Bolts of Story Coaching

How It Works
Personalized Coaching. When you work with me, we determine what your goals are and then create an execution plan with clear interim steps that allow you to make tangible and concrete progress.
Customized Feedback. Along with the personalized coaching you receive, you'll also receive laser-focused comments on each stage of your process so you make rapid progress.
Regular Road Maps. During each of your coaching calls, we'll create an action plan for you to meet your next set of writing goals.
Weekly coaching calls on Skype.
Email support. Stuck on something? Have a quick question? Send it by email Monday through Thursday and expect a reply within 24 hours.
Interim goal setting. During each of the scheduled calls, you'll come away with a plan for concrete developmental targets.
Recorded calls. Each of our scheduled calls will be recorded. This way, you can refer back to the recordings again and again.

The Details
Creative Kick-Start
$2500
This is an 8-week creative kick-start

. It's ideal as a springboard for starting a project. After a few short weeks with your story coach, you'll have the direction and momentum you need to complete your writing project. Or, you might be stuck on an existing project and need help in creating a clear road map for completion.
You choose your unique path: Work with me to create an outline and schedule, and then write and get feedback on the first few chapters, or, alternatively, get an entire manuscript evaluation on a previously written draft.
The rate for this coaching package is $2500 for 2 months (8 weeks). Credit card payments are accepted via PayPal. Payment options also available.
Show - Creative Kick-Start Coaching Examples
+
To give you an idea of how we can customize your story coaching experience, here are two possible options:
You are just starting out with an idea. During your initial coaching call, we get clear on your project. Then I create your writing schedule. Each week, you work on a step of the writing and submit that to me. I give you feedback, after which you rewrite and then go on to the next writing step on your schedule. Typically, in an eight week session, writers get 3 to 4 chapters with rewrites accomplished. This sets you up in a consistent writing practice that you can then continue until you complete your first draft. If you prefer to continue working with your coach, you can sign on for another Creative Kick-Start package.
You already have a manuscript completely written and need help in polishing the story. We meet for our first coaching call to get clear on what your vision is for your story. After reading your first draft, I give you detailed written feedback with suggestions for improvement and development. Finally, we meet in our second and final coaching call to discuss any questions you have about moving forward with your story.
Click here for Payment Plan Options
+
Choose the Payment Plan Option Best for You:
One-time payment of $2,500USD for the Creative Kick-Start Coaching Package.
Pay $1,500USD x 2 installments = $3,000
Book an exploratory call with me today. Click here  to schedule your appointment.
This is a 12-month writing journey. It's designed for the dedicated woman committed to her story vision.
An exclusive VIP experience awaits. This is a fully customized experience to meet your needs. At our initial consultation, I'll design your program based on where you're at now and what you want to achieve during our time together.
During your 12-month writing journey, you'll receive regular support, feedback and guidance.
Your investment in realizing your writing dreams is $12,000USD. Credit card payments are accepted via PayPal. Payment options are also available. Click on the blue link below for more info.
Show - Creative Journey Coaching Examples
+
To give you an idea of how we can customize your story coaching experience, here are two possible options:
You have an idea for a story and need help to flesh out the idea. During your VIP intake experience, we'll get clear on your story vision with an outline and writing schedule with weekly milestones articulated. Includes weekly, bi-monthly or monthly feedback on your writing or just on the entire manuscript, once you've finished writing it at the end of your coaching journey.
You already have a manuscript partially or completely written and need help in polishing the story. After reading your first draft, I give you detailed feedback and create a customized rewrite journey for you in the Creative Journey Package option. Follow-up coaching calls keep you on track and accountable so you finish your rewrite on time.
Click here for Payment Plan Options
+
Choose the Payment Plan Option Best for You:
Save $2,000 when you pay a one-time payment of $10,000USD for the entire 12-month Creative Journey Coaching Package.
Pay $1,000USD x 12 installments = $12,000 +$480 processing fee.
Book an exploratory call with me today. Click here  to schedule your appointment.
Need a Co-Author or Ghostwriter?
If you're looking for someone to write your book for or with you, fill out this pre-call questionnaire to tell Elizabeth more about your intended project.
More Client Success Stories
I was on a real plateau for seven years with my writing, but being with Elizabeth has allowed the ink to flow again. I know when I'm in the hands of a professional, and that has given me a lot of confidence to move on.

Vivian Silver

Author
I needed Elizabeth to give me the extra support necessary for me to get my projects off the ground. I've learned so much about the practical side of writing – the things you don't learn in academia. Elizabeth is absolutely worth every bit of money you invest. You put in the work and she's there to support you.

Meredith Darling

Actress, Filmmaker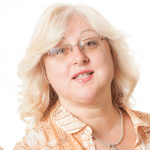 Elizabeth Johnston is an author, a certified writing instructor with over 20 years of experience, and a story structure expert. She has an Honours B.A. in Humanities and Creative Writing, and an M.F.A. in Screenwriting.
She is a prolific writer with over a hundred articles and reviews widely published in magazines and national newspapers including The Globe and Mail, The Toronto Star, The South China Post, and the Canadian Medical Association Journal.
During decades of writing, teaching and reviewing, Elizabeth has developed a keen understanding of what makes good stories tick. This experience has allowed her to pass on her knowledge to thousands of students and private clients so that they can go deeper into their craft.
In addition, Elizabeth was awarded a Canada Council of the Arts grant to write her creative non-fiction book, No Small Potatoes, available on Amazon. Her poetry was included in the anthology A Room at the Heart of Things, and her latest project was the writing and directing of the short film, Keepsake, based on her grandmother's experience of World War II.
She's good.
Adam Kelly Morton, Montreal, QC
Elizabeth, your Basic Screenwriting Seminar was exactly what I was looking for. It was a great overview of the essential activities involved in writing a screenplay. It really demystified the process for me. I especially liked the practical content in your workbook and I'm sure I will be able to use it in the future. If this doesn't get me started, nothing will!
Shaun Fawcett, M.B.A., Montreal, QC
Thank you for a great seminar. I really enjoyed meeting you, loved your teaching style and got a lot out of the class. As a bonus, I felt that we all got along really well. It was a great day!  Please let us know if you will be returning to Toronto to host any other classes.
Many thanks, Laura, Toronto, ON
Elizabeth is very patient. She makes class fun! A very generous and warm teacher.
David Turpie
Elizabeth's focus on having the right structure for a screenplay is something I never forgot. I referred a lot to her notes when I was working on my scripts.
Devinder Singh
I thought I knew the basics from reading online and websites, but I didn't. I took away a lot from this class and can't wait to get started on my script.
Vanessa Crimi
I took Elizabeth's workshop on writing screenplays many years ago yet I still remember vividly what we discussed and how accessible she made it all for the group. That's what I call excellent teaching! I continue to learn from her and to be inspired by her dedication to the craft of writing.
Ingrid Berzins, Sarasota/Montreal
Wish I could have taken this long ago.
Mary Ann Taylor, Montreal, Qc
This workshop delivered exactly as promised: clear, concise instructions on how to get started, and how to think of your story as a screenwriter.
Natalie Willet
You have the ability to unlock whatever 'treasures' are in my mind. Your guidance and direction were just what I needed.
Marilyn Golden, Pierrefonds, Qc
Elizabeth, I just wanted to say a huge thank you for the seminar yesterday! It was exactly what I had hoped it to be, so informative, and it gave me a great new perspective for my acting work as well as a fresh new start to my writing. I had a great day and the time flew by!
Natalie Roy, Toronto
The seminar went beyond my expectation. I'm almost sad to say goodbye. The participants, and you, were so interesting. There was a lot of heart.
Kathryn Ayres

---
Disclaimer: Use of my services does not guarantee publication.